Discover the best WordPress Coupon Plugins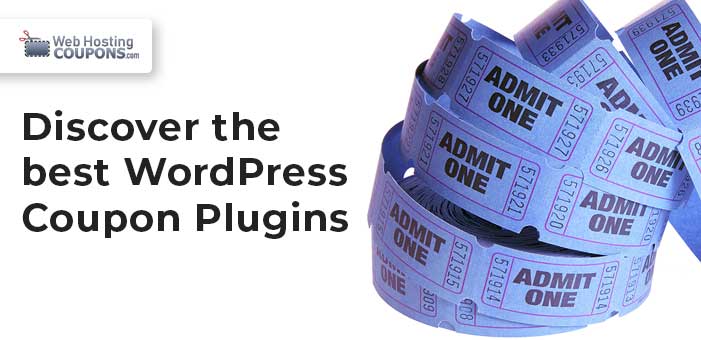 Discover the best WordPress Coupon Plugins
If you have an eCommerce store and you want to boost sales, discounts and coupons are the best way to gather new customers or incentivise loyal customers to buy more products. Up to 60% off all consumers use social media to find the best coupon deal on the Internet. Coupons and discounts drive sales and will help you get ahead of your competition.if your website its built-on WordPress and WooCommerce, this guide might help you find the best WordPress coupons plugin to create coupons and gift cards for your website.
Coupon Creator
Disk plugin uses the custom post type to create a coupon. The coupon then can be inserted into a page using a short code inserter from the content editor. The pro license helps you customise the coupons with multiple border styles, reoccurring expiration and visual editor for the coupons.
Magic WP Coupons – Lite
This plugin will easily let you add coupons to your website. Each coupon gets short code which is associated with it. This shortcode can be inserted on a webpage wherever you want to show the coupons.
WordPress Coupon Plugin – WP Coupons and Deals
This is one of the best plugins that can be used to promote affiliate coupon deals for your WordPress site. This plugin works with short codes for each coupon. There are 3 types of coupons: coupon, deal, image. This plugin adds the functionality to copy the coupon details to the clipboard if the coupon is clicked. Affiliate links can also be used with the coupons.
Social Offers and Coupons
If you are looking to reward customers for social actions like sharing and liking your web page, then this coupon will help you. You can offer downloads in the form of PDF, music or files for rewards. The offer page can be customised with image text and the details. The code snippet will be generated and can be used on a website to display the offer. This is a great way to boost sales on ecommerce platforms like BigCommerce and Magento.
YITH WooCommerce Gift Cards
Another way to encourage new sales is to use gift cards. You can use a gift card by setting the amount for each and then sending the gift card code via email. The recipient can use the gift code to buy whatever gift they want. By this way you can get rid of the guessing that goes into buying a gift.
YITH WooCommerce Share for Discounts
With this plugin you can reward your customers when they share your products. For example: if they buy a product and then share the product information on Facebook or other social platforms you can reward them with a discount coupon.
YITH WooCommerce Coupon Email System
This particular plugin rewards loyal customers for making a purchase on your website. It is a powerful way to boost your customer retention. This plugin lets you send a coupon to your customer via email for the first purchase the making shop.