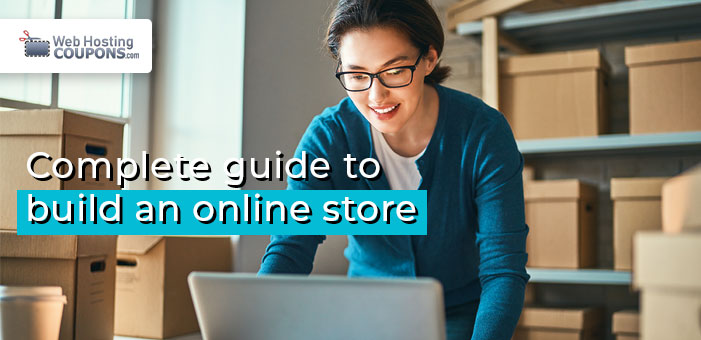 Complete Guide to Build an Online Store
If you want to build your brand and increase sales, the fastest way to do so to build a website online. Ecommerce websites account for large part of all retail sales. This is the best time to go online as it is quite easy to set up a store and run it in a few quick steps. Ecommerce platforms are also very easy to use today compared to a few years ago. Plus, they are cheaper to run compared to many brick and mortar stores. In this guide we will show you the easiest way to build an online store.
How do you build an online store?
Decide on the eCommerce platform.

Choose the best plan.

Identify a domain name.

Pick your template.

Add your products.

Test and publisher online store.
Step 1: Decide on your eCommerce platform
There are many eCommerce platforms available in the market today. Ecommerce platforms provide you with the website builder that helps you put up your own store website without needing technical skills. The first step is choosing the right sitebuilder to build your online store.
A site builder like the one offered by luxhosting.lu Can provide you with a Pro Tools interface, that will make your job easier. Ecommerce website builders are very easy to use and almost everyone you will find it easier to put up a site with these tools.
Step 2: Choosing the best plan
Most eCommerce plants start at 15 euros per month. On this plan you are provided with 10 email accounts, unlimited storage, a drag and drop site builder, site importer, premium templates, free SSL certificate, and .com or .xyz domain for free. 
Step 3:  Identify your domain name
The domain name is the address for your store. It is the digital equivalent to your Postal address. A good domain name is very important if you want to be effective in reaching customers. Think of your domain name as a part of your brand. Your hosting package should provide you with a free .com domain. Choose a domain name that is unique and exemplifies your brand.
Step 4: Pick your template
Templates are organised into different categories and each category will represent a different industry. Templates for software companies, financial companies will have their own category. There might be category for online stores. Picking the right template is very important as this will help you with the features in your store, the style of your design and the user experience of your store.
Your homepage should communicate what kind of business you are just a glance. Home page could contain a simple image or slideshow depending on your business goals. It is important to capture the attention of a potential customer within the first 10 – 20 seconds of when your site loads. Clear navigation bar is critical. When you design your pages make sure that there is a clear way of travelling between them. Your navigation bar should also be easy to use. Use a color which fits your industry and design you have in mind.
Step 5: add your products
Now that your website is ready it is very important create an online catalog of what you are going to be selling. While building your store, keep in mind that your product pages should be provide the following information:
Product image

product description

name

price

category

weight

color

variation

delivery information
Depending on what you're trying to sell you might want to tweak the information a little bit. Well defined and detailed product description will help making a sale. Making sure that your page is search engine optimized is also important to increase the amount of traffic coming to your store.
Step 6: test and publish your store
Before you publish your store, it is important to see that all the parts of the store are working. You should do run through the whole buying process make sure that your website is functional. Add product to the cart and check your payment options and shipping options. If there are any issues correct them and make sure a customer can place an order. Another thing to keep in mind how the website will function on a mobile device. It is important to test this as well. Once you are satisfied that your website is functioning the way to supposed to go ahead and publish your store.
Looking for affordable hosting for your website? Find the latest eCommerce hosting coupons here.