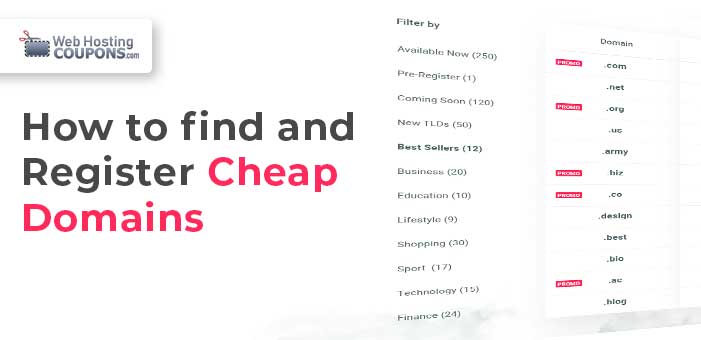 How to Find and Register Cheap Domains
Your domain name is very important for your website as it defines your brand. There are quite a few places where you can find a domain name to your liking, but there are few places you can find great deals on domain names. You do not have to host your website at the place same place you buy your domain name. Let us give you a few tips on buying a cheap domains that is good.
Choose your perfect domain name
A ".com" is not always available, and you might be tempted to use domain name that is similar sounding with a different spelling. Some of the things to keep in mind while choosing a domain name are as follows.
Do not choose a name with hyphens
A hyphen might get you the name you want but it might create an unnecessary complication for users as they will have to remember the position of the hyphen in the name. Multiple hyphens are a strict no-no as they will confuse the user. It is going to be worse if your competitor has a similar sounding name as this will send traffic to their websites by mistake. Hyphens in a name also look low budget and can really mess with the brand.
Don't just choose a name that ends with .com etc.
Since it might be hard to find ".com" domains, you might be tempted to use name with an alternate ending. If this happens you should brainstorm a new name or choose a new generic name like .org, .tech, .net, or find geo-specific country codes like .co.uk, .de, .eu, etc. If you opt for a descriptive alternate ending be sure to check for the .com and register it too where possible.
Do not choose a name that has multiple spellings and numbers
As before using a name that can be confused with another one will only result in free advertising for the other website. It is in your best interest to build a brand that is consistent and distinct from others.
Clarify your brand
Before you look for domain name, it might be valuable to spend some time in deciding what your brand should be. This means you might have to come up with several variations of a name. It is worth the time to spend investing in this before you start or buy a domain. Choosing the right domain is very critical.
Lease your domain name for a longer period  
Once you have decided on your domain name, it is beneficial to register it for at least 2 years. Domain names that are registered for 2 years and more will be cheaper than registering for one year at a time. This will also help avoid the complexity of renewing a domain name every year.
Avoid using a generic name
These names will usually be auctioned by domain names providers for high costs. This name should be avoided because they will not stand out if you are thinking to build a brand. This website's will also rank lower on Google and other search engines.
Conclusion:  A good domain name is critical for the survival of your brand. And while there might be many places you can get a domain name to your liking. Keep in mind the above tips on how to choose the best domain name and use this to buy you desired domain name.