How to Choose the Best Domain Registrar in 2021?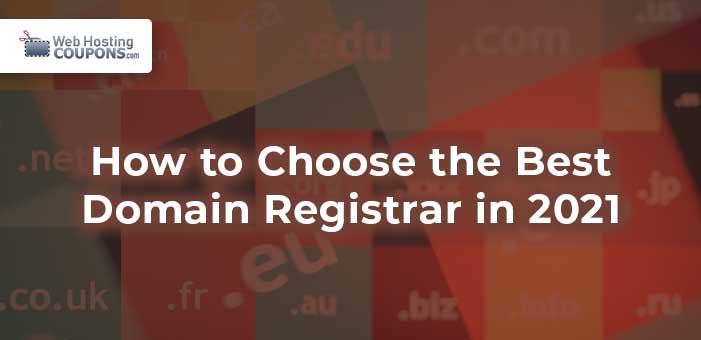 How to Choose the Best Domain Registrar in 2021?
There are several things to consider when building an excellent website and one of the first things to do is to select your domain registrar. This guide will give insight on the most important aspects to weigh such as pricing, registration period and add on services. It will also give you a head start with a few registrar recommendations. Upon choosing your registrar, explore ways of getting discounted prices on your choice.
What Is a Domain Registrar?
Your domain registrar is the company that reserves your domain name and the IP address it is assigned for. People don't readily remember numbers but they do with names which is why so many businesses pay a lot of attention into making their domain name memorable and easy. Sometimes though, great minds think alike and you might have too many of the same names, this is why the process of locating one unique to you only is so important. For example, Google's domain name is google.com but their IP address is 192.1168.1.1. People won't readily remember numbers but a name, they will.
Pay Attention to Their Prices and Add-On-Fees
To buy domain, the first recommendation is to investigate all prices along with their registration period. It is never a good feeling being caught off guard especially when it comes on to costs. Check on fees such as registration, renewal, domain transfer etc.
Most companies offer a minimum registration period of a year while others may have two years. Additionally, some companies have as promotion free domain registration and expensive renewal fees. This is the reason why you are encouraged to check on prices before you buy domain from a registrar. On the contrary, there are other companies who offer domain packages and hosting services who are able to waive the first year registration fee providing that you use their other services.
What about add-on-Fees?
Ensure you give attention to the checkout page and pre-checked add-on services when you buy domain from a registrar. If you don't uncheck options you do not want, then this would increase your bill significantly.
Check Their Domain Transfer Policy
The option to transfer your domain name after the first 60 days of registration should be available with most registrar. Some registrar may choose to allow you to transfer free of cost while others may charge a transfer fee if you're not happy with their service and desire to change. Because of this, you need to ensure you check their domain transfer policy before you buy domain from your provider.
Check Expiration Policy Before You Buy Domain
Before you buy domain from a registrar, check their expiration policy. It would be good to select one that has a grace period so that if you forget to renew on time, your business domain name would not have been opt for bidding on the market. Instead, you'll have grace period to get your papers in order.
Decision, Decision, Decision
As stated earlier, you want to pay attention to the price of your domain and what the renewable fee would look like after your initial registration. Good domain registrars offer easy transfer at no additional cost and offers you grace period for your renewable process. You want to stick with registrars like these. Get the best domain deals from here.