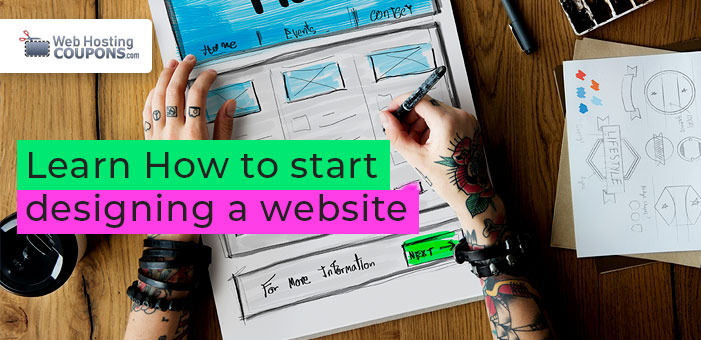 Learn How to start Designing a website
Building a website using site builder is very easy and quick. In this guide we will walk you through the steps that will help you get better in designing your own website. To design your own website, follow the following steps.
Choose your plan

Choose the perfect domain name

Pick and customize a template

Upload your content

Preview your site

Publish your website
Step 1:  Choose your plan
The fastest way to build a website is to use a website builder. After you choose your website builder, you should go ahead and choose a plan that will provide you the features you require for the website. Plans typically start from US$5 to US $50 per month depending on the features you choose. We've found several sitebuilder offers which include web hosting and a free domain like .xyz or .com website is usually included in their plans. Like this one.
Step 2: Choose the perfect domain name
A domain name is basically your website's unique address online. This should be a part of your brand as it will identify who you are and what your site is about. Most site builders will provide you with a free domain name as part of their plan. So, be on the lookout for this service in your plan. When your register a domain name be sure to get a domain that is memorable. Selecting a domain name that is relevant to your business or website's content will go a long way in establishing your brand.
Step 3: Pick and customize a template
A great sitebuilder will provide pre-built templates that you can use to design your website. After selecting a website template you can customize it to your specific needs. 
Choose a design that is clear and relative to your brand or the content that you are trying to display. Customizing your template to your liking is as simple as changing the size and changing the colors, add your logo and change the fonts on the website. You can also add new pages for your content. Utilizing a gallery to display images is also good idea. You should also link and embed your social media channels
Step 4: Upload your content
Now that the website looks good it's time to upload your content. Templates are built using placeholder content. Simply replace the placeholder content with your content. Utilize good stock imagery and videos to communicate what you would like with your website. Choose good images for website and keep in mind the size of the image. You can also compress your images to help speed up your website.
Step 5: Preview your website
Site builders normally feature and easy to use preview mode that will help you visualize how your site looks on the browser and on mobile browser. Use this tool to optimize your size of images, text and videos so that the experience is a good one. A suggestion is to ask someone else to preview your website to provide an objective opinion. Hey
Step 6: Publish
Now that you've found a good domain name, customized your template, uploaded your content, previewed your website, it is time to go live! If you are satisfied with your website, you can just hit the publish button and watch the traffic come in.
Conclusion
Thanks for reading our article on designing a website, we sincerely hope that you found it useful and that it will help you in your next online project. Visit our website frequently to get a hold of discount codes from website builders and hosting companies.